An easy one-point acupressure technique for leg cramps - MAS acu-punk, Elizabeth Ropp

Have you ever woken up in the middle of the night with a charlie horse? Or get a muscle cramp in your hamstring from stretching too deeply or exercising a little too hard?

I am going to teach you a simple acupressure technique to relieve leg cramps, with just one point. I learned this from my friend, Kristine Kaoverri Weber, shiatsu practitioner and yoga teacher. This treatment is so simple, that it's right under your nose. Literally, the point is under your nose.

Of all of the acupressure tips that I share, this is the tip that I recommend the most often. It works so well and the results can be felt almost immediately. Mind you, this may not work for everybody. But I, personally, have seen this work for most people.

Here is what you are going to do:
Find the divot between your upper lip and your nose. This is called the philtrum. You are going to press and rub this point and take deep breaths until your leg cramp or muscle spasm goes away. This should really only take a few seconds.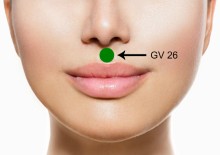 This acupressure point is called Ren Zhong, or Governing Vessel 26. The Governing Vessel is a meridian that runs through the midline up the back of the body. We commonly needle points Governing Vessel points, like Du 20 on the very top of the head or, a special point, Yin Tan, right between the eyebrows.

And, that's it. Try this the next time you get a muscle cramp in your leg and let us know if it works for you.

Video demo with Elizabeth
-----

All of us at Manchester Acupuncture Studio miss all of you. We hope to see you again and in good health.

At this time we are accepting tax-deductible donations to help us cover the rents in Manchester & Nashua while we are temporarily closed during the virus pandemic. You can alsoThis email address is being protected from spambots. You need JavaScript enabled to view it. as another way to support the clinic. We thank you for your generosity and camaraderie.