POCA & POCA Tech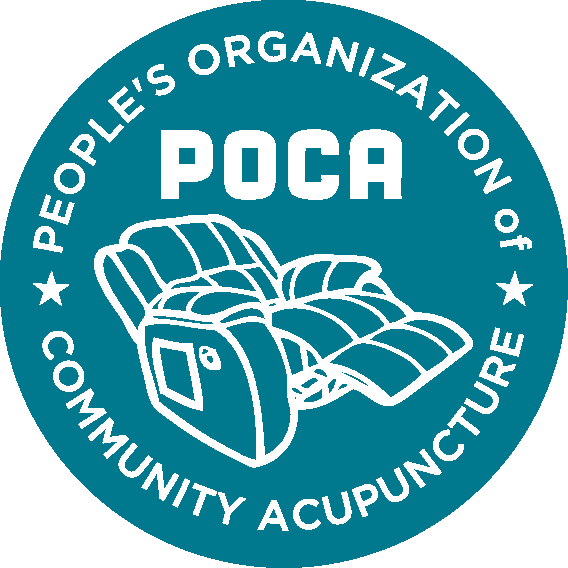 We are a founding member of the People's Organization of Community Acupuncture (POCA), a 501(c)6 non-profit organization that seeks to support the growth of community acupuncture clinics across North America.
Beyond your Community Acupuncture clinics here in Manchester & Nashua, a rapidly-growing number of similarly structured clinics have launched across the US and abroad through the efforts of POCA.
Its mission since forming in 2011 is to make acupuncture available and accessible to as many people as possible and to support those providing acupuncture in order to create stable, sustainable businesses and jobs.
While keeping this goal in mind, POCA knows that acu-punks and patients are mutually dependent on one another, and that the health of the relationship between the two is entirely connected. It's to honor these connections within our clinics by making practical use of strong social relationships that POCA will continue to be a locomotive for more Community Acupuncture clinics to open and thrive. If affordable community acupuncture is to be made available for thousands of more communities across this country and beyond, the resources and skills of acupuncturists, patients and others are going to be needed to do so. POCA creates a structure to make this happen.
If you are looking for affordable, accessible community acupuncture clinics in different areas of the US and beyond, please visit this list compiled by the good people at West Philly Community Acupuncture.
To join POCA and support the delivery of community acupuncture in lots of different places around the country, jump over here.
POCA Tech
POCA Tech is a technical school – a 501c3 educational non-profit - whose goal is to provide an affordable education and practical training for aspiring community acupuncturists. We think of it as the educational arm of POCA.
The POCA cooperative urgently needs qualified licensed acupuncturists both to work in existing community acupuncture clinics and to open new clinics in areas without affordable acupuncture.
POCA Tech provides a genuinely affordable acupuncture training program for students of ordinary incomes while providing employable graduates who are fully prepared to work in a community acupuncture environment.