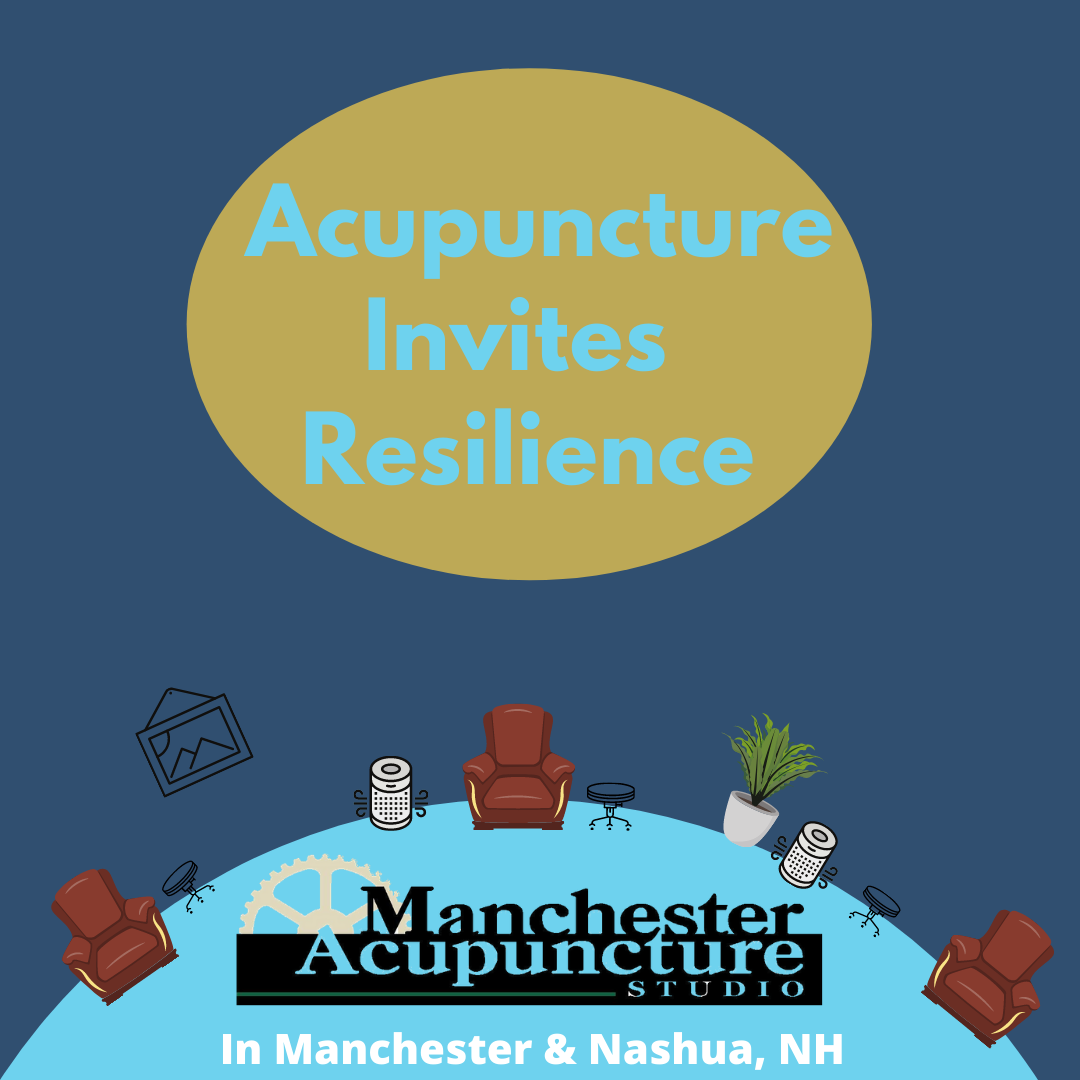 Note: This page will be updated as new information or changes in policy come to pass.
(updated: 11-23-20)


UPDATES

Travel Policy
MAS is following the NH Department of Public Health Services guidelines regarding travel. Here's the short version:
If travelling outside of New England we are required to quarantine for 14 days (without COVID symptoms) before being able to return to clinics - or for 7 days if you have proof of a negative COVID test once returning to NH after travelling.
The finer details are as follows:

Traveler/visitors to and residents of NH need to self-quarantine for 14 days following the last date of any travel internationally (including to/from Canada); on a cruise ship; or domestically outside of the New England states of Maine, Vermont, Massachusetts, Connecticut, or Rhode Island for non-essential purposes.
If the person has no symptoms and has a negative COVID test on or after day 7 of quarantining, they may shorten or end their quarantine.
This 7-day "test out" of travel quarantine option applies only to travel-related quarantine and not quarantine due to other types of exposure.
Please bring in proof of your negative covid test if you return to the clinic after the 7 day test-out period.

Exposure Policy

We've been getting calls asking what constitutes exposure to covid and decided to post our policy to answer these questions.


MAS is following the CDC guidelines of exposure, which is defined as having close contact (within 6 feet) for a total of 15 minutes or more, within a 24 hour period.


What does this mean? Let's give some examples:
If you chat with the delivery person for 5 minutes in the morning when they drop off your package, that's not exposure.
If you chat with them for another 10 minutes later that day, this brings the total time spent together to 15 minutes and that is considered exposure.
Most likely if you have a family member, co-worker or teammate who tests positive for COVID you're considered exposed and should not come into the clinic for 14 days after the exposure.
----

Before returning to MAS for your first treatment back, please be prepared for the changes to policies and procedures detailed below. We're following the CDC & NH State guidelines, so our clinics are going to look a little different the next time you come in. We appreciate everyone being on the same page. You will have to have a mask on in order to enter the clinic - and please do your very best to keep your hands washed/sanitized and away from your face once inside.
We'd also like to acknowledge that some of the changes detailed below may not be welcome or accessible to everyone. One of the many reasons we love community acupuncture is because of how flexible and accepting the model fundamentally is. We have been able to serve the community over the past 13 years without having to play a large role in telling people what they should or should not do. If for whatever reason, these new policies or procedures hinder your ability to receive treatment from us, we are really sorry and we hope that the time comes soon when you are able to rest with us again.


Here's an overview of what you can expect. More details are available further down the page.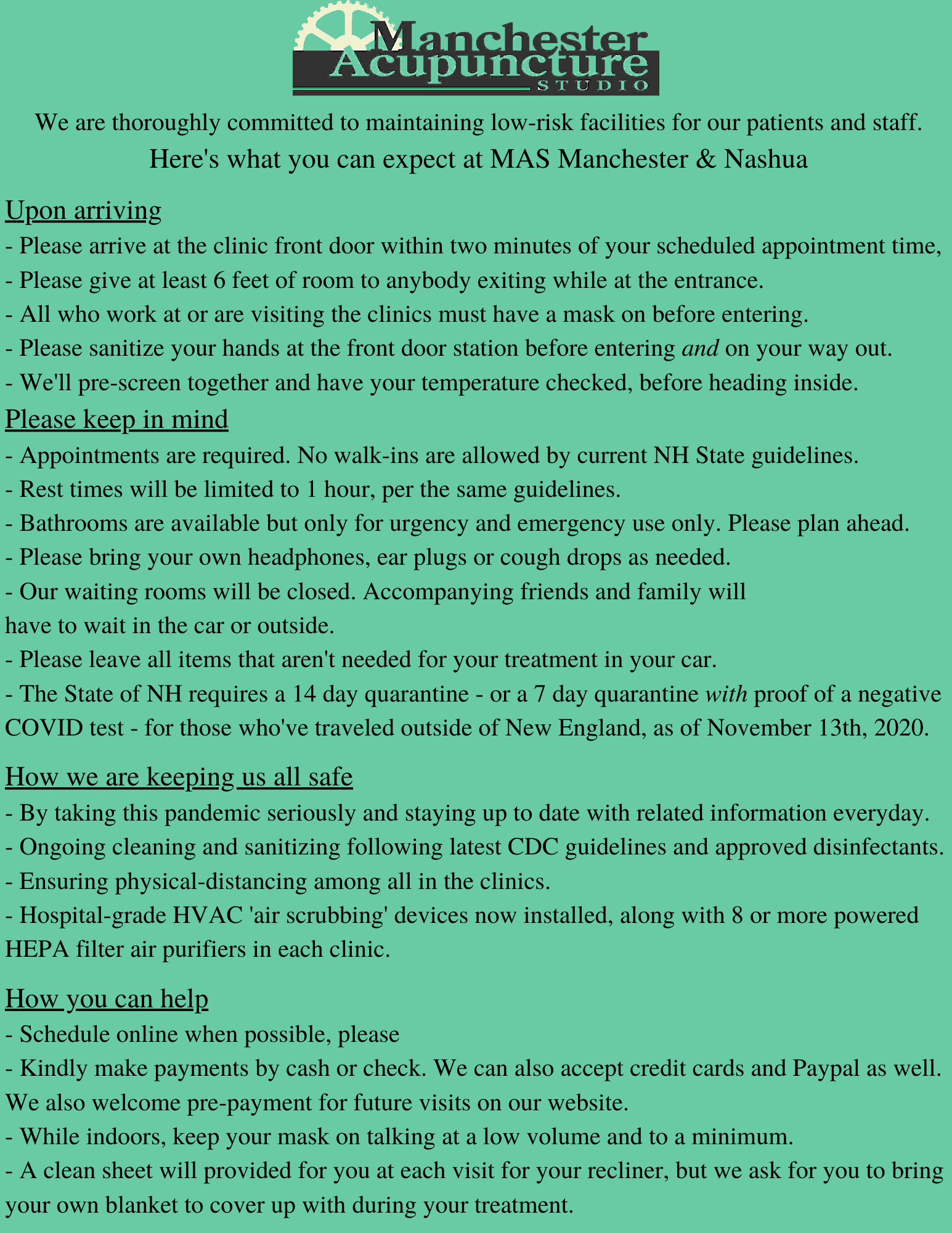 Details: What's Different Now?
For the purposes of keeping adequate distance between people entering and exiting the clinics, we ask for you to please be at the clinic entrance within a couple of minutes of your appointment time. If you are at the entrance earlier, please expect to wait. If you are late, we will likely not be able to fit you in. Missed appointments will be responsible for a $20 fee.

Once we meet you out front, we'll have you take part in a pre-screening series of questions and a temperature check. We'll then welcome you inside. When you enter the clinic, please have your mask on. Once inside please sanitize your hands with the touchless dispenser. We'll then head over to the Front Desk area.
Here, we'll talk a bit, collect payment if you haven't already pre-paid and schedule future visits if you'd like to do so.
You'll then make your way into the treatment room. Make yourself at home here as you normally would have pre-COVID. Take note of the arrows on the floor directing movement around the treatment room. You'll see about half of the recliners have been taken out of rotation. You're welcome to choose any recliner that isn't facing the wall and has a fresh sheet over it. If you see a recliner that's without a sheet, but vinyl-covered with a print of white stars, it's not dry from disinfectant just yet. Pick a different chair. You're also welcome to bring your own clean sheet and blanket from home. In order to limit our in-house laundry, we'd very much appreciate for you to bring in your own clean blanket to cover up with during treatment, if you are able.
For now, we're limiting everyone's rest time to one hour.
To minimize everyone's contact with high-touch surfaces, water will be available by request, the bathroom for urgency & emergency situations only.

Likewise, weather permitting we'll be leaving our treatment room doors open as often as possible. This means our treatment rooms might be a little noisier than usual, so feel free to bring earplugs or headphones from home.

Please leave everything you do not need for your appointment in your car or at home.
Please assess your personal risk level when considering making an appointment. While we are doing everything we can to ensure your safety, it is important to be cautious during this time especially if you fit the CDC's at-risk criteria.


Details

: How We're Keeping Us All Safe
MAS staff are conducting daily staff-screenings and temperature checks, complying with recommended social-distancing guidelines and will wash/disinfect their hands between all patients and after touching all surfaces. All of your acupuncturists are following the guidelines of public health officials in their personal lives, as well.
Anyone entering the clinic will be required to wear a mask, including all staff and patients. If you don't have a mask, we'll have one available for you.

We're cleaning and sanitizing our facilities on an ongoing basis, following the latest CDC guidelines to do so.

We've closed the waiting room and spread out treatment room recliners to ensure adequate physical-distancing of at least six feet, often much more.

We are disinfecting the recliners after each use.

We're following the latest recommendations from public health and infectious disease experts. Our policies may change as new information emerges. Know we are committed to providing the lowest-risk environment possible for our patients and staff. MAS is a home away from home for all of us, we wouldn't want it any other way.

Lastly, we've invested in new hospital-grade ionic technology as part of the heating/cooling systems (HVAC) that aims to eliminate bacterial or viral presence in the air moving through the ductwork. This in addition to the sixteen (!!) large powered HEPA air-purifiers that are always on in both locations and maintained regularly.

We feel confident in these steps – new and long-standing – to maintain a safer space for us all.

Details: How You Can Help
For the time being, we expect to be providing only a fraction of the treatments we'd normally be able to provide. You can help keep the organization moving ahead and our prices low with a few small steps:
Please pay with cash (exact change, we will not have change to offer) or check, if possible. We'll have a payment box near the front desk where you can drop your cash or check into for contactless payments. Credit cards will work, as well.

In addition, we now accept payments vis Paypal. U

se this address to pay MAS at any time: paypal.me/manchacu - or use the Paypal QR cose found inside each clinic

This new MAS website also offers the chance to pre-purchase treatments, individually or as treatments packs. Check that out here.



Please limit your time in the lobby for check-in and payment only. We're not welcoming non-patients to wait in our lobby or treatment room.

Please arrive on time (ideally within 2 minutes) for your appointment.


A fee of $20 will be applied when an appointment is missed without a call to notify the clinics before-hand or cancelled within 12 hours of the appointment time, without a medical or emergency reason for having to do so.

Please be patient with us and understand that we'll be working with a smaller number of staff for a while. If you call during clinic hours, we'll be able to answer your call. During off-hours we might not be able to get back to you right away. Do trust your call will be returned as soon as possible.

The quickest and easiest way to schedule an appointment is always online at:

pocapoint.com/pp/mas




MAS depends on higher-volume to keep our prices low. We will be evaluating the financial impact of these COVID-related policy changes. To stay afloat over the next handful of months with this new-for-now normal, we would appreciate your help. If you are in the position to pay a bit higher on the sliding-scale for your treatments or able to offer a tax-deductible donation to the organization, MAS would greatly appreciate and benefit from your doing so.

We know this is a good deal of change. As you're likely aware, COVID-19 is changing the way many households and businesses operate, all the while disproportionately impacting the most marginalized and vulnerable among us. We can't know what the future will look like, but MAS is committed to meeting this moment armed with reliable information and with flexibility and compassion.

If there was ever a time for a low-cost, drug-free approach for increasing resiliency, reducing high-stress, anxiety and insomnia, the time is now. We're grateful to be present with you. Community acupuncture is such a valuable resource for helping to collectively process this all. At the same time, we know MAS isn't going to be able to operate quite in the same way as we have in the past. Not yet anyway.

We hope MAS can continue to be a source of recovery, relief and resilience for you and for our community. We hope that these strange weeks and heightened isolation brings a renewed appreciation of the power of community and working together. It certainly has for us.

Thank you so much for your understanding and patience as we enter this new-for-now normal. If you have any questions, don't hesitate to contact us.

The MAS Staff & Board