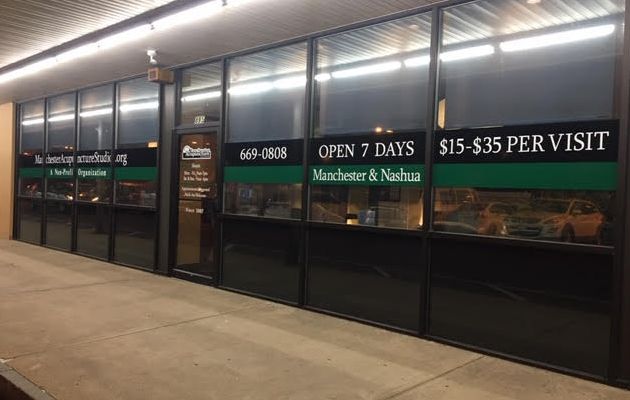 (new window work is up at MAS - Manchester courtesy of Amoskeag Signworks)

Well now that December has announced itself, we thought it'd be good time to make an offer you can't possibly refuse!

All month long, the purchase of a MAS Gift Certificate in the amount of $40 or greater,
will return to you one (1) free treatment at MAS clinics for your own self.

Yes, you give and you receive from MAS. Pretty sweet, right?

This month will get crazy for most of us in one way or another. Heck, the last day and-a-half was fairly epic, right?
We're invested in making sure we make it as easy as we can for you to take your acupuncture treatments when you need them.

A quick look ahead at the clinic schedule this month: We are scheduled to be open every day of the month - including Christmas Eve, Christmas Day and New Year's Eve. In event of more heavy snowstorms, keep your eye on the WMUR TV 'closings' screen-crawl, MAS social media and/or our clinic telephone answering machines for announcements that we're closing up shops.

Last, we've got numerous vacation days that will be covered by guest-star full-timers this month in Manchester & Nashua clinics. Keep your eye on the on-line schedule for the accurate acu-punks on duty for a particular shift.